37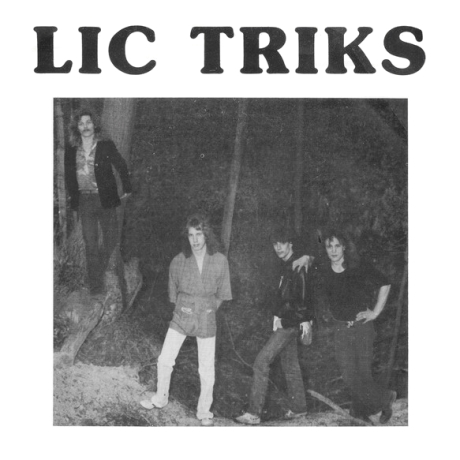 Artist: Lic Triks
Release: Lights Of Broadway 7"
Genre: Hard Rock/Heavy Metal/Prog Rock
Country: USA (Montrose, Michigan)
Bitrate: 320 kbps
►
See following posts for a working link!
---------------------------------------------------------------------
Info
https://www.discogs.com/Lic-Triks-Light ... se/8339020
LIC TRIKS - Lights Of Broadway 7" (1983) USA
Lic Triks Records LTSA-001
320 kbps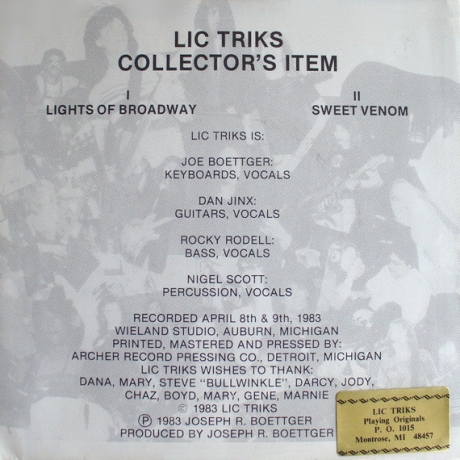 Joe Boettger - Keyboards & Vocals
Dan Jinx - Guitar & Vocals
Rocky Rodell - Bass & Vocals
Nigel Scott - Percussion & Vocals
Recorded April 8th & 9th 1983 at Wieland Studios, Auburn, Michigan
On the rare occasions when it comes up for sale, the sole private self-produced 45 by early 80's band LIC TRIKS is often listed as 'Heavy Metal', but that's not entirely the case.
Whilst there's certainly some Metallic guitar in the mix, it's really more of a 70's Heavy Rock sound with some Prog moves, comparable in sound to early SARACEN perhaps.
Expect to pay around $50 US nowadays if you want to secure yourself a mint copy of the record complete with it's original picture sleeve.
Information on the group, who were a quartet from Montrose, Michigan, USA, is hard to come by, even in the internet age.
Despite my best efforts, the band's former leader, vocalist & keyboard player Joe Boettger was the only member i was able to find any trace of online.
Seems he still remains active in the music world in 2018, but in a different capacity these days, in his role as the president of the Flint Local 542 with the Detroit Federation Of Musicians.
art & txt included
---------------------------------------------------------------------
01. Lights Of Broadway
02. Sweet Venom