19
THIS POST HAVE DEAD LINKS
REQUEST A REUPLOAD

HERE



CHECK SUBMITTED REQUESTS
BEFORE POSTING A NEW ONE!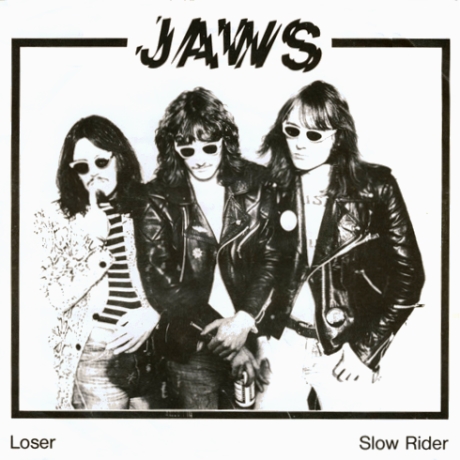 Artist: Jaws
Release: Loser 7"
Genre: Hard Rock/Punk Rock/Southern Rock
Country: Germany (Münster)
Bitrate: 192 kbps
►
---------------------------------------------------------------------
JAWS - Loser 7" (1978) Germany
Modern Music Studio/Schallwand Musikhandel A-3895
192 kbps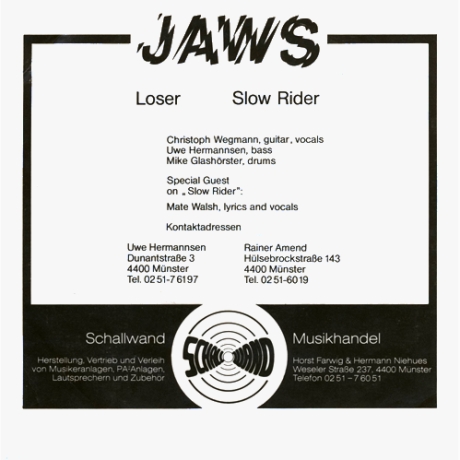 Christoph Wegmann - Guitar & Vocals
Uwe Hermannsen - Bass
Mike Klashörster - Drums
Special Guest on 'Slow Rider' : Mate Walsh - Vocals
JAWS were a German trio who released just a lone 1978 single of which only 200 copies were made.
The members of Jaws were Münster-based schoolmates who also worked together for a local lights/PA rental company.
After seeing THE CLASH touring Germany early in 1977, the three guys started to play a short set of self-penned Hard Rock/Punk songs as a soundcheck for the sound-system.
Their boss liked what he heard and recorded the group for posterity.
In the summer of 1977, the trio finished school and all left Münster for various reasons.
Later, whilst back at home visiting his parents, the drummer learned that the owner of the rental company had pressed & released two of these songs as a 45 without the band's knowledge or permission.
Confronting his old boss, he was told that only 200 copies had been manufactured and was given 25 copies of the record as belated payment.
The story seems a little odd as the bassist's contact details are printed on the back of the record's picture sleeve, but as that story's the only info on the band to be found online we'll have to take it at face value until we hear otherwise.
As for the music, the A side, 'Loser', is a straightforward uptempo rocker with a vaguely punky undertone & a memorable twin guitar refrain reminiscent of THIN LIZZY.
The flipside, 'Slow Rider', is to me, the better of the two tracks, with a neat swampy groove & a Southern Rock vibe reminding me somewhat of the likes of THE BOYZZ or MOLLY HATCHET.
So, musically it's a somewhat schizophrenic affair, but the band plays well & unlike many a cult 45, both songs are actually pretty memorable.
Expect to pay anywhere from $40-$200 to secure a copy of your own, (if you can find one), or simply enjoy the mp3s & spend the money on beer instead.
art & txt included
---------------------------------------------------------------------
01. Loser
02. Slow Rider