25
Artist: Pearl
Release: Stage Lights 7"
Genre: Hard Rock
Country: USA (Rochester, NY)
Bitrate: 320 kbps
►
Hidden Link
---------------------------------------------------------------------
Info
PEARL - Stage Lights 7" (1980) USA
Ambrotype Records 1178
320 kbps
Debbie Randyn - Vocals
Jerry Falzone - Bass & Backing Vocals (LIAR'S MOON)
Ray Bellizia - Guitar & Backing Vocals
Jerry Magill - Keyboards & Backing Vocals
Carl Lang - Vocals & Drums (BITTLE & LANG)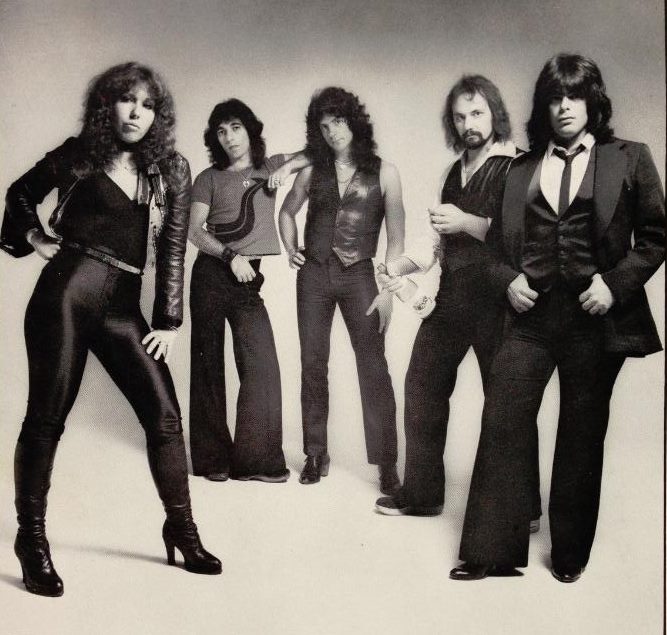 PEARL were a 5 piece American Hard Rock band formed in Rochester, NY in the mid 1970s.
Initially the group played Top 40 Rock covers but gradually introduced their own self-written material into the live setlist, whilst contantly touring Mid to North & South Eastern US and Canada for many years.
The band developed a dedicated & loyal live following throughout the years, who strongly supported Pearl's efforts in becoming an all-original act whilst still enjoying their increasingly rare forays into cover material.
Despite their best efforts however, the major labels just weren't responding to their demos or recognising that the group had independently built a strong following with their tireless road work.
Original guitarist Mike Blocker decided to bowed out of the band in 1979, and was replaced by the talented Ray Bellizia.
A record deal was eventually struck with Ambrotype Records, a small independent label with links to the 60s/70s Pop-Psych group THE FREE DESIGN. At last, people would hear the talent that Pearl possessed.
Through Ambrotype, the group released two late 70's 45s, 'Is This Real?' backed with '10 Dollar Bill', followed by 'Stage Lights' which featured 'I'll Take Your Money' on the flipside.
Neither single troubled the charts, but they were picked up by several local radio stations on their touring circuit, and they provided Pearl's fans with something to tide them over in between gigs.
Original drummer Carl Lang left the band around this time, with Dave Clarke taking his place behind the kit.
Pearl then had one of their tracks, the power-pop infused 'Can't Hold Back', selected to appear on radio station WCMF's various artists compilation album, 'WCMF 96.5 Homegrown', released in 1980.
A further boost to the bands profile was then provided by New York Cable TV station WUHF 31, who featured the group performing three of their songs live on an edition of their show 'After Hours'.
Another Rochester radio station, 92MJQ, then added Pearl to their 4 band bill for a run of shows they promoted as 'Hot Rock '81', where the group shared stages with CHEATER, ANVIL & LITTLE TROLLS.
The band also got to open several shows for CHEAP TRICK around this time, a bill which seemed tailor made for Pearl & their hard edged but hooky songs.
1981 saw the group's final record released, a self-titled 4 song 12" EP recorded at Saxony Studios & issued by Denitoland Records.
This record saw the band incorporate some then-contemporary New Wave sounds into their usual Hard Rock/AOR blueprint. It's an unusual combo, but somehow it works.
Pearl continued to be a popular live attraction for another couple of years, but eventually, tired of slogging it out on the circuit with no concrete label interest, they opted to go their separate ways in 1983, though the guys did get back together on one occasion just for old times sake in 2002.
Several former members of the band have continued to make music since, with Jerry Falzone being most prolific, releasing a 2006 solo album (which featured former bandmates Debbie Randyn, Ray Bellizia & Carl Lang putting in guest appearances), called 'Off The North Coast ', before it's 2012 sequel 'Just Before The Storm' appeared (again featuring Bellizia).
Now with a new band called LIAR'S MOON, Falzone released an album called 'Chasing Ghosts' in 2017, which again featured Debbie Randyn on backing vocals on a couple of songs.
Falzone continues to play live, both as a solo act & with Liar's Moon.
Carl Lang who was the drummer & vocalist with Pearl in their early years, released the 2001 album 'Soldier Of Fortune' as part of the duo TOMMY BITTLE & CARL LANG.
Much of the info for this bio was gleaned from :
https://www.facebook.com/pearl.rockband/
art & txt included
---------------------------------------------------------------------
01. Stage Lights
02. I'll Take Your Money