61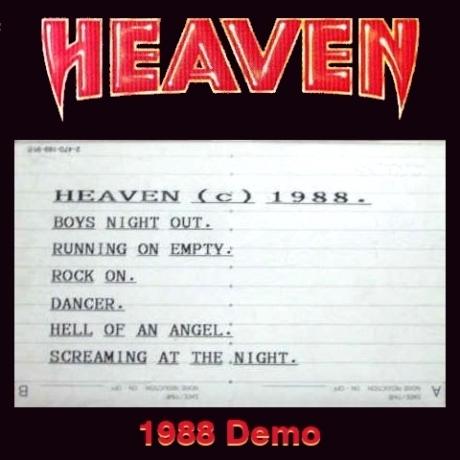 Artist: Heaven (Aus)
Release: 1988 Demo
Genre: Hard Rock/Melodic Metal
Country: Australia
Bitrate: 192 kbps
►Dead Link
---------------------------------------------------------------------
HEAVEN - 1988 Demo (1988) Australia
Self Released Promotional Cassette
192 kbps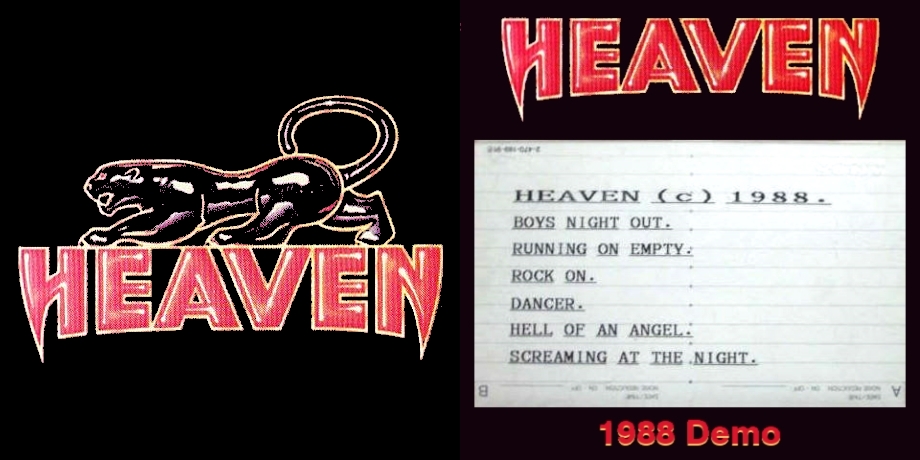 Alan Fryer – Vocals (FAT LIP, HEROES)
? - Guitar
? - Guitar
? - Bass
? - Drums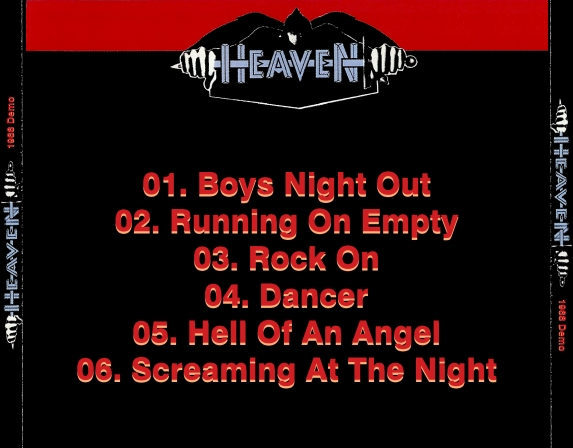 HEAVEN was an Australian Hard Rock band with initial similarities to the likes of THE ANGELS and AC/DC.
Michael Browning, the band's manager, had formerly managed AC/DC, & his experience helped Heaven to make an impact internationally courtesy of a worldwide deal with RCA Records.
The band concentrated on driving, yet melodic Hard Rock and garnered strong sales in Europe and North America.
The band's original nameless 1979 line up featured the Scottish born ex-FAT LIP and HEROES vocalist Allan Fryer alongside guitarist Kelly Bradford of SWANEE & Heroes, guitarist John Haese from Fat Lip, ALMOST HUMAN bassist Laurie Marlowe and Fat Lip drummer Joe Turtur.
Fryer then left to travel to Sydney to audition for AC/DC following the tragic death of their singer Bon Scott.
After AC/DC announced Brian Johnson as their new vocalist, Haese, Marlow and Turtur decided to continue where they'd left off under the brand new band name of Heaven.
The band issued the single 'Fantasy' and a debut album 'Twilight Of Mischief' before Haese was replaced in early 1982 by former ROSE TATTOO guitarist Mick Cocks, with the band then supporting IRON MAIDEN in Oz before relocating to Los Angeles.
The debut album 'Twilight Of Mischief' was later re-released by CBS Records with a new cover, revised track listing and the new album title of 'Bent'.
To support the album's American release the band toured with JUDAS PRIEST, BLACK SABBATH and KISS.
1983's 'Where Angels Fear To Tread' album boasted some impressive guests in the shape of LITA FORD and GLENN HUGHES.
DIO frontman Ronnie James Dio also added backing vocals under the pseudonym 'Evil Eyes'.
The album was supported by a single, 'Rock School' and touring with their friends in MOTLEY CRUE.
Cocks and Turtur were then ousted from the ranks in favour of former AC/DC, FINCH and BEAST bassist Mark Evans, who joined on guitar, and former SWANEE, BEAST and DALLIMORE drummer John Lalor.
However, this line-up was not to last long.
The band's third album found only Fryer remaining from the original line up, now sharing the spotlight with former STEELER & TALAS guitarist Mitch Perry, ex-MSG bassist Dennis Feldman & drummer Tommy Dimitroff.
Heaven then later added ex-RICK DERRINGER guitarist Mark Cunningham to the line up as well.
A single of BOB DYLAN's 'Knockin' On Heavens Door' gained valuable radio play for the band in 1985, however, when the album of the same name didn't sell well the band were dropped by their label.
Without a record label behind them any more, Heaven folded shortly thereafter.
Also in 1985, former Heaven member Laurie Marlowe joined BOSS, but was usurped the following year by the very same man that took his position in Heaven - Mark Evans.
After his stint in Heaven, Mitch Perry later turned up as a member of MICHAEL SCHENKER GROUP.
Ex-Heaven personnel Haese, Evans, Marlowe and Turtur, together with ex-BLACK ALICE singer Rob Hartley, then created a band called HELLCATS.
Alan Fryer had relocated to Texas after Heaven folded and later formed a new incarnation of the band, which at various times featured local talent such as Scott Howe, John Paul Dutton, Rodger "Bam Bam" Weiss, Bryan Cameron and Timi Heiser.
By 1989 Mark Evans and John Haese had formed another new act MAMA'S DARLINGS with former Rose Tattoo members guitarist 'Rockin'' Rob Riley and drummer Scott Johnson & ex-TOUGH LUXURY singer Stuart Cave.
From 1989-1993 a new Heaven line up consisted of frontman Alan Fryer, ex-THIN LIZZY guitarist Brian Robertson and ex-RAINBOW & DIO bassist Jimmy Bain, with guitarist Greg Belt from FORCED ENTRY completing the line-up.
However, this version of the band eventually folded too after having no luck in secuing a fresh record contract.
Heaven would eventually reunite almost 20 years later to appear as special guests on Judas Priest's 2001 Australian tour.
The Heaven line-up for this tour was Alan Fryer, Laurie Marlow, guitarists Kevin Pratt & Ross Flynn Theo Kats on Drums.
A re-issue of Heaven's 'Where Angels Fear To Tread' was released to coincide with the tour and a re-release of 'Knockin' On Heaven's Door' followed, adding six bonus tracks, (1 unreleased track and 5 live tracks from a BBC concert recording), to the running order.
art & txt included
---------------------------------------------------------------------
01. Boys Night Out
02. Running On Empty
03. Rock On
04. Dancer (MSG cover)
05. Hell Of An Angel
06. Screaming At The Night