10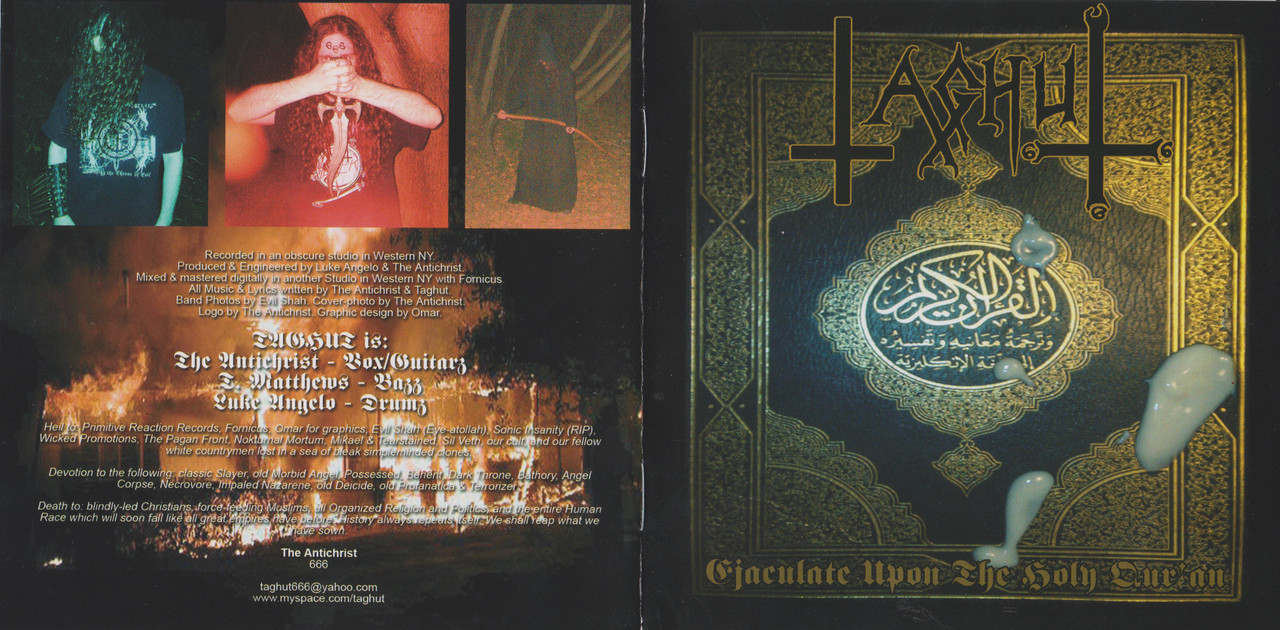 Artist: Taghut
Release: Ejaculate Upon The Holy Qur'an (2008)
Genre: Black/Death
Country: USA (Rochester, NY)
Bitrate: 320 kbps
►Dead Link
---------------------------------------------------------------------
The band name,
TAGHUT
, was taken only after the album was recorded. It is an Islamic word:
"
In an Islamic context, the Arabic word taghut refers to idolatry, considered impurity. This can be anything worshipped other than the one true God (Allah), such as deities of other religions, people claiming themselves to be holy outside of Islam's definition, or the worshipping of ideas or ideologies before God.
"
Prior to that the band was known as
Branded 666
since forming around 2002. I produced and engineered this album in my studio and I contributed some as well.
Imagine a mix of Beherit's "
Drawing Down The Moon
" album (esp. the whispery growled vocals), old
Morbid Angel
,
Angel Corpse
,
Terrorizer
, Slayer "
Reign In Blood
" and Possessed "
Seven Churches
".
I actually recently found a box of sealed Taghut CD's and Gatefold LP's (originals). If anyone is interested in buying one then email me at vaalkoth@yahoo.com.
The bassist T. Matthews committed suicide after the CD came out. I lost complete contact with the other members.
Anti-Christian Anti-Muslim Anti-Human
Taghut was
never
a NSBM band.
Archive includes full scanned booklet and disc at 600 dpi.
---------------------------------------------------------------------
1. Reichquiem (Introdestruction) - 1:00
2.
Piss on the Altar of God
- 3:57
3.
Ejaculate upon the Holy Qur'an
- 3:32
4. Exterminate Christianity - 3:39
5.
Terrorist
- 4:23
6. Branded 666 - 2:03
7.
Jesus Christ and the Christian Church
- 1:31
8. The Fist of Satan - 3:22
9. Burn the Holy Nations of Islam - 2:23
10.
Fascist Regime
- 2:48
11. Better to Reign in Hell... - 2:24
12. The Arrogant Jews - 2:15
13.
Blaspheme Muhammad's Name
- 2:11
14. This World Belongs to Satan - 2:38
15. The Oldest Man - 1:36
16. Hail the Crucifixion - 2:40
17. To Serve and Protect - 3:06
18. March of Hate (Outrodestruction) - 0:54