11
THIS POST HAVE DEAD LINKS
REQUEST A REUPLOAD

HERE



CHECK SUBMITTED REQUESTS
BEFORE POSTING A NEW ONE!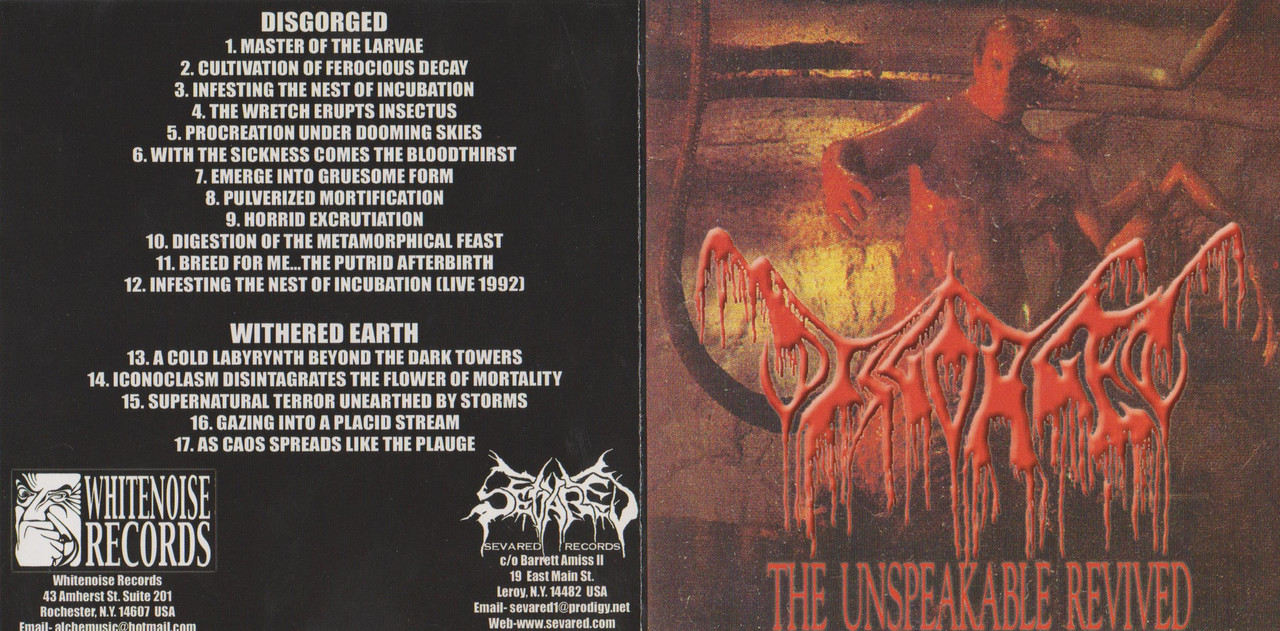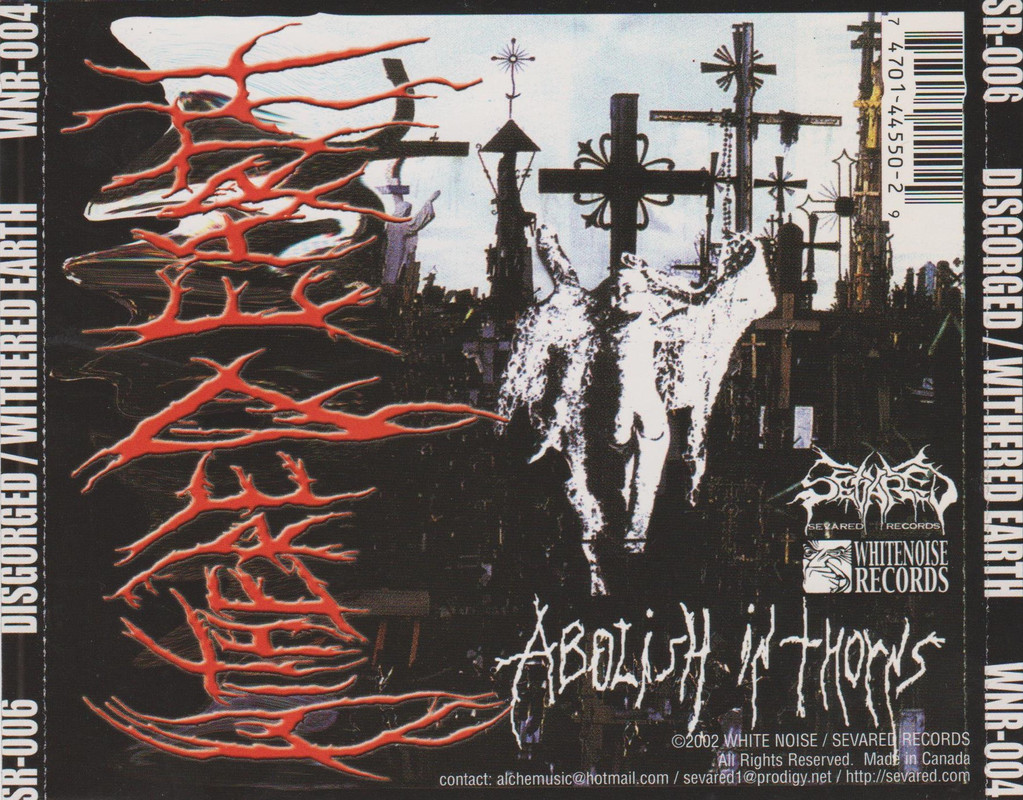 Artist: Disgorged / Withered Earth
Release: The Unspeakable Revived / Abolish In Thorns
[Split] (2002)
Genre: Death/Grind
Country: USA (Rochester, NY)
Bitrate: 320 kbps
►
dead link
---------------------------------------------------------------------
This is a Split CD of 2 Rochester, NY bands. Disgorged is the main band featured. They are the pre-Withered Earth band featuring 3 members who continued on into Withered Earth when Disgorged split apart after drummer Dave Colross and bassist Mike Donnelly left. This is a collection of Disgorged's discography and the debut Withered Earth demo from the years 1992-1995. The only thing missing from the Disgorged discography is 2 songs from the debut demo. They left them off because there were re-recorded versions on the mini-CD and I guess they didn't like the old versions. And the Withered Earth demo includes a bonus track. There's also a bonus live Disgorged track.
Withered Earth went on to get signed and released 3 CD's before splitting up in 2005.
The Disgorged original Mini-CD and Booklet have also been shared in the site by me.
Scanned and ripped from my personal collection.
---------------------------------------------------------------------
1. Disgorged - Master of the Larvae
2. Disgorged - Cultivation of Ferocious Decay
3. Disgorged - Infesting the Nest of Incubation
4.
Disgorged - The Wretch Erupts Insectus
5.
Disgorged - Procreation Under Dooming Skies
6. Disgorged - With the Sickness Comes the Bloodthirst
7.
Disgorged - Emerge into Gruesome Form
8. Disgorged - Pulverized Mortification
9.
Disgorged - Horrid Excrutiation
10. Disgorged - Digestion of the Metamorphical Feast
11. Disgorged - Breed for Me... the Putrid Afterbirth
12. Disgorged - Infesting the Nest of Incubation (live)**
13.
Withered Earth - A Cold Labyrinth Beyond the Dark Towers
14. Withered Earth - Iconoclasm Disintegrates the Flower of Mortality
15.
Withered Earth - Supernatural Terror Unearthed by Storms
16. Withered Earth - Gazing into a Placid Stream
17. Withered Earth - As Chaos Spreads Like the Plague**
Tracks 1 - 4 is the 1993 mini-CD "Thy Hideous Wake"
Tracks 5 - 7 is the 1994 demo#2
Tracks 8 - 11 taken from 1992 demo#1 "Breed For Me..." (missing 2 songs)
Track 12 **bonus live song
Tracks 13 - 16 from 1995 demo#1 "Abolish In Thorns"
Track 17 **bonus from 1995 demo#1 session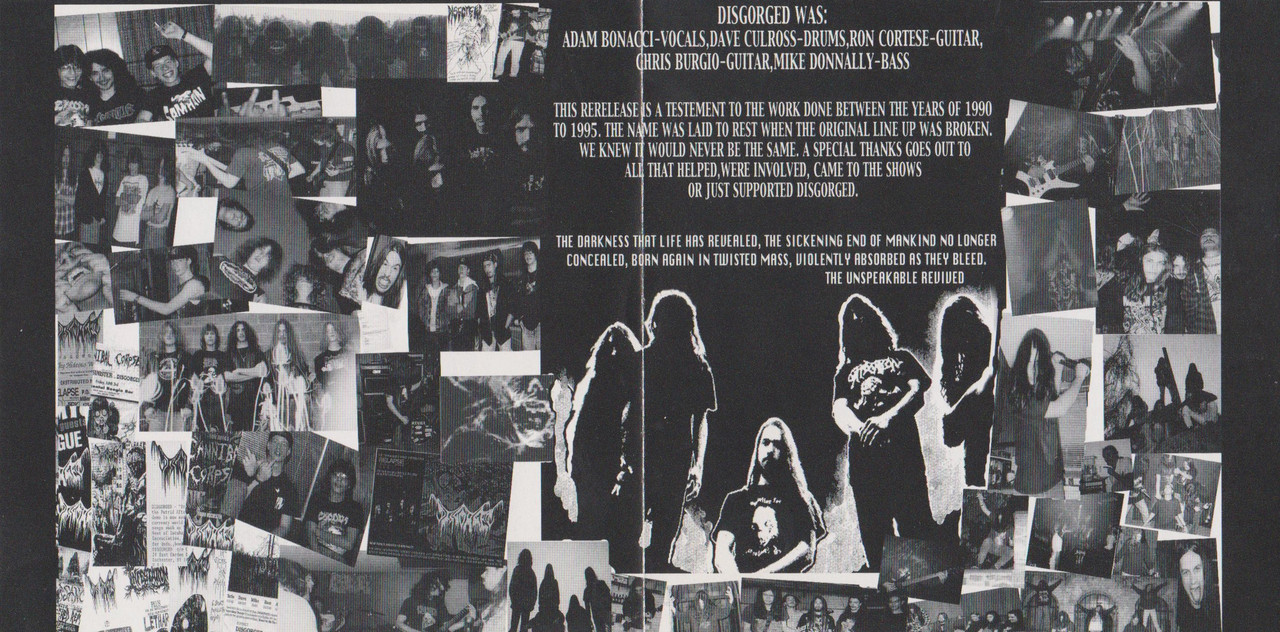 Disgorged line-up
:
Mike Donnelly - Bass
Dave Culross - Drums
Ron Cortese - Guitars
Chris Burgio - Guitars, Vocals
Adam Bonacci - Vocals
Withered Earth line-up
:
Chris Burgio - Guitars
Adam Bonacci - Vocals
Greg Godfrey - Bass
John Paradiso - Drums
Ron Cortese - Guitars
Disgorged 1994 demo#2 cover:
Withered Earth 1995 demo cover: