12
Artist: Regredior
Release: Born In The Coffin + For Flinging Souls
Genre: Death Metal
Country: Lithuania (Vilnius)
Bitrate: 252kbps + 192kbps
►Dead Link
---------------------------------------------------------------------
https://www.metal-archives.com/bands/Regredior/25323
https://www.discogs.com/artist/702753-Regredior
The 2nd and 3rd demo's of the great Lithuanian death metal band Regredior. I always liked them. The 2nd demo I actually own, the 3rd one I got through tapetrading and from the net a few years ago (can't remember where). To me they just have a Lithuanian feel to them, but don't ask me to explain it. They just sound obscure. At times reminding me of
Opera IX
and
Sepolcrum
. There are a few atmospheric touches here and there. The 3rd demo ("For Flinging Souls") is actually 2 of their EP's released as a promo tape in Lithuania only. Side A of the tape (tracks 1 - 3) is their "Touched By Thanat" 7"ep'93 and Side B (tracks 4 - 6) was what was meant to be a 3-song 7"ep that didn't come out in '94, it instead came out as a Mini-CD in '95 entitled "
Forbidden Tears
" with 2 more tracks added. This demo is more brutal death metal and they even made a couple pro-shot video's for 2 songs. Highly recommended.
---------------------------------------------------------------------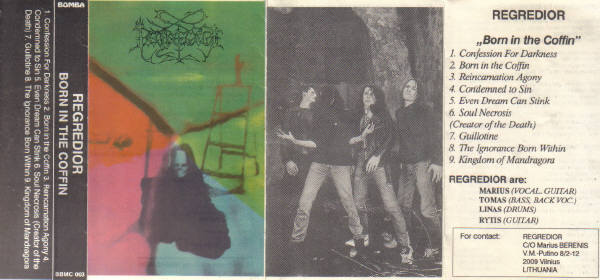 1993 demo[/u]#2 "Born In The Coffin"
1. Confession for Darkness
2. Born in the Coffin
3. Reincarnation Agony
4. Condemned to Sin
5. Even Dream Can Stink
6. Soul Necrosis (Creator of the Death)
7.
Guillotine
8. The Ignorance Born Within
9.
Kingdom of Mandragora
1993 demo#3 "[u]For Flinging Souls"
1. Fury Ball
2. Return to the Kingdom of Mandragora
3.
Touched by Thanat
4. Reflections of the Shadows Age
5.
Hungry Ghost
6. Forbidden Tears