41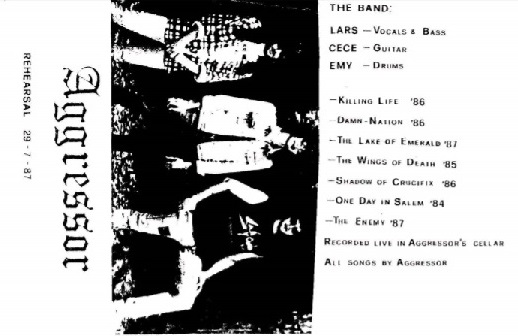 Band: Aggressor
Country: Italy (Rome)
Genre: Blackened Thrash Metal
Release: Demo tape
Title: Rehearsal 29-07-1987
Year: 1987
Bitrate: mp3 - 320 kbps
Info:
Got this one from a friend (Hi Flavio!!!)
who is in touch with Cece,this demo is not on
their Metal Archives page yet.
Started in 1984 as Poison Death,soon changed
name to Aggressor and released their first demo
(The Wings Of Death) in 1985 (the year on Metal
Archives is wrong), this rehearsal was recorded
live in studio and contains various songs composed
from 1984 to 1987 before quitting in 1988; in 2013
Cece reformed the band with Emy releasing an instrumental
digital album in 2019 called Inferno, the band has plans
to rerecord the album in a new version with female vocals
but they did not find a singer yet.
https://aggressor.bandcamp.com/releases
Line up:
Cesare "Cece" Marulli - Guitar
Lars - Vocals and bass guitar
Emy - Drums
Tracklist:
1 - Killing Life (1986)
2 - Damn-Nation (1986)
3 - The Lake of Emerald (1987)
4 - The Wings of Death (1985)
5 - Shadow of Crucifix
6 - One Day In Salem (1984)
7 - The Enemy
All songs recorded live in Aggressor'studio in date 29-07-1987
Hidden Link