63
Artist: V/A
Release: Tasty : Truly Obscure Vintage Hard Rock 1976-1983
Genres: HArd Rock/Heavy Metal/AOR/Pomp Rock/Southern Rock
Country: USA
Bitrate: 320 kbps
►
Hidden Link
---------------------------------------------------------------------
Various : TASTY : Truly Obscure Vintage Hard Rock 1976-1983 (1976-1983) USA
Self-Made Compilation (Tasty Records - Tasty One)
320 kbps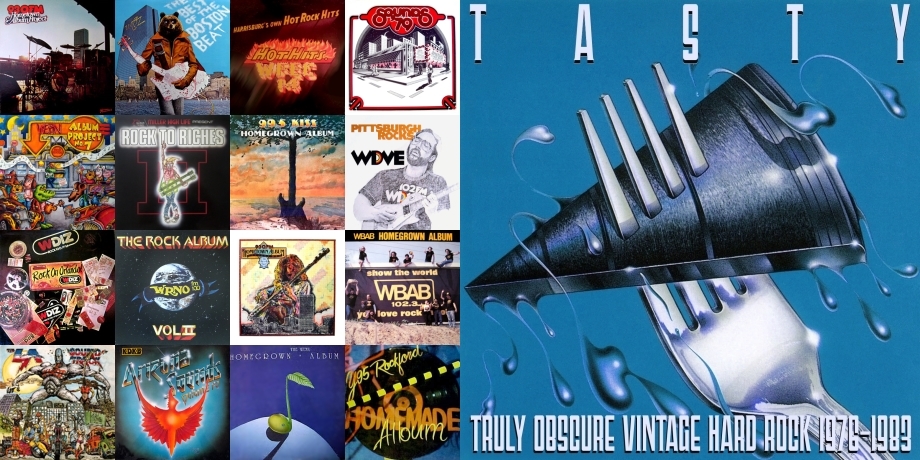 Track 01 from : From the 1980 '93 QFM Hometown Album Project' LP
Track 02 from : From the 1979 'The Best Of The Boston Beat : WCOZ' LP
Track 03 from : From the 1982 'Hot Hits : WFEC 14 - Harrisburg's Own Hot Rock Hits' LP
Track 04 from : From the 1979 'Sounds '79' LP
Track 05 from : From the 1982 'WEBN Album Project 7' LP
Track 06 from : From the 1983 'Z96 : Rock To Riches II' LP
Track 07 from : From the 1981 '99.5 KISS Homegrown Album' LP
Track 08 from : From the 1980 'WDVE : Pittsburgh Rocks' LP
Track 09 from : From the 1982 'WDIZ : Rock On Orlando! - Homegrown Vol 2' LP
Track 10 from : From the 1979 'The Best Of The Boston Beat : WCOZ' LP
Track 11 from : From the 1982 'WRNO : The Rock Album Vol II' LP
Track 12 from : From the 1982 '93 QFM Hometown Album Project No. 2'
Track 13 from : From the 1981 'WBAB : Homegrown Album' LP
Track 14 from : From the 1976 'KWST : The L.A. Soundtrack' LP
Track 15 from : From the 1980 'KDKB Arizona Sounds Volume IV' LP
Track 16 from : From the 1980 'WDIZ : Homegrown Album' LP
Track 17 from : From the 1981 'Y95 Rockford : Homemade Album'
You can now preview the whole album here on youtube, courtesy of
anubisswift
.
And if he reads this, yes, i was the creator of this compilation.
In the 1970's & 1980's a little-remembered but common promotional tool for U.S. radio stations was the local artists compilation LP.
Often the groups included were chosen to appear through local battle of the band style contests, but later on some of these competitions went statewide or even national, and were often sponsored by big booze companies like Miller or Seagrams.
Whilst the majority of these bands shuffled straight back into obscurity often leaving these compilations behind as the only record that they ever existed, many aspiring rockers who later became well known got their first break on these things.
These records usually veered all over the place both stylistically & in terms of quality, but with persistent digging the occasional golden nugget can be found amongst all the dross.
Here are 17 unsung but very worthwhile songs, plucked from some of those long forgotten records and conveniently assembled in one place for your listening pleasure.
Primarily taking in Hard Rock & Heavy Metal, with the occasional excursion into Southern Rock, AOR or Pomp Rock territory, all the tracks were recorded between 1976 & 1983.
It's a weird time capsule, a sampler album from a Twilight Zone parallel universe where every teenage bedroom has posters of the Dave Steffen Band & Dave Feinstein's Thunder on the wall and no-one knows who Judas Priest or Aerosmith are.
Enjoy!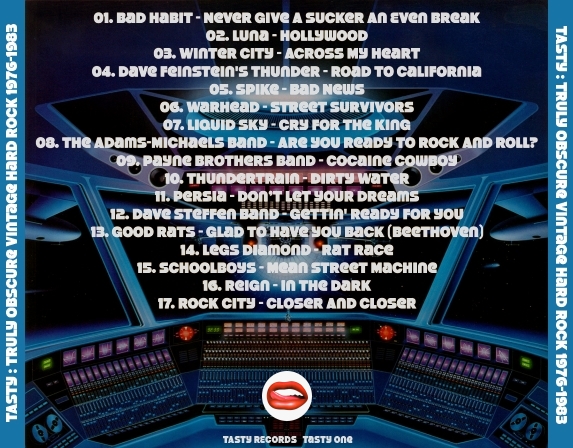 BAD HABIT were from Milwaukee, WI & as far as i can tell this was the only song they ever released.
LUNA were from Boston, MA & grew out of a prior band called ORCHESTRA LUNA, who released a S/T LP in 1974.
WINTER CITY were from Hummelstown, PA, and were previously known as FULL MOON. Under that name they released a S/T 1980 LP later reissued on CD as 'State Of The Artist'.
DAVE FEINSTEIN's THUNDER were from upstate NY, and featured a post-ELF, pre-THE RODS Feinstein on guitar & vocals, and a pre-MANOWAR Joey DeMaio on bass.
SPIKE were formed in Cincinnati, Ohio in 1973, and released 3 singles & 2 albums. Guitarist David T. Chastain later formed CHASTAIN, CJSS (with 2 other former Spike members) and ZANISTER, as well as recording as a solo artist.
WARHEAD were formed in South Carolina. They released 'Street Survivors' as a 45 in 1985 and a 1986 cassette EP, 'Tonight We Rock'. A compilation CD of their vintage material, 'Explosive Rock', was released in 2014.
LIQUID SKY were from San Antonio, Texas and featured a pre-WINTERKAT John Grell on Guitar, with vocals from Steve Cooper, later of S.A. SLAYER, NARITA, EXXPLORER & JUGGERNAUT.
THE ADAMS-MICHAELS BAND were from Pittsburgh, PA, and released a 45, 'Lonely Man' in 1982. Singer/Guitarist Robert Michaels later formed EXPEN$E.
PAYNE BROTHERS BAND were formed in Edgewater, Florida in 1970 and are still going strong! They released their debut album 'In The Blink Of An Eye' in 2008.
THUNDERTRAIN were from Boston, MA & released 2 albums 'Teenage Suicide' & 'Hell Tonite!'. Vocalist Mach Bell fronted the JOE PERRY PROJECT for the 1983 'Once A Rocker, Always A Rocker' LP.
PERSIA were from New Orleans, LA, and were previously known as ROYAL ORLEANS. Under that name, they released the 1981 'Hustling In Hollywood' single.
DAVE STEFFEN BAND are from Milwaukee, WI, and grew out of the earlier band SUNBLIND LION who released 3 albums between 1976 & 1980. Dave Steffen Band released their debut album, 'Find A Groove' in 2008.
GOOD RATS were from Long Island, NY and released 13 albums between 1969 & 2014. The version of the band on the (exclusive) featured track has Bruce Kulick, (KISS, MEATLOAF, BLACKJACK & UNION) on guitar & future TWISTED SISTER member JOE FRANCO on drums.
LEGS DIAMOND were formed in Los Angeles, CA, in 1975, and released 10 albums between 1977 & 2005. This version of 'Rat Race' predates the version that appears on their S/T debut LP.
SCHOOLBOYS were from Phoenix, Arizona & recorded a four song EP, 'Singin', Shoutin'' in 1980, before changing their name to ICON. As Icon, they released four studio albums between 1984 & 1989.
REIGN were formed in New Smyrna Beach, Florida in 1976 by the Rogers brothers, John & Don.
ROCK CITY were a quartet from Rockford, IL, that's all i know.
Both of these sites are invaluable sources of information, if you are curious about the world of radio station local artist comp LPs they should be your first ports of call:
http://thecorroseum.org/comps/index.php
http://www.radiouseonly.com/
art & txt included
---------------------------------------------------------------------
01. Bad Habit - Never Give A Sucker An Even Break
02. Luna - Hollywood
03. Winter City - Across My Heart
04. Dave Feinstein's Thunder - Road To California
05. Spike - Bad News
06. Warhead - Street Survivors
07. Liquid Sky - Cry For The King
08. The Adams-Michaels Band - Are You Ready To Rock And Roll?
09. Payne Brothers Band - Cocaine Cowboy
10. Thundertrain - Dirty Water
11. Persia - Don't Let Your Dreams
12. Dave Steffen Band - Gettin' Ready For You
13. Good Rats - Glad To Have You Back (Beethoven)
14. Legs Diamond - Rat Race
15. Schoolboys - Mean Street Machine
16. Reign - In The Dark
17. Rock City - Closer And Closer