38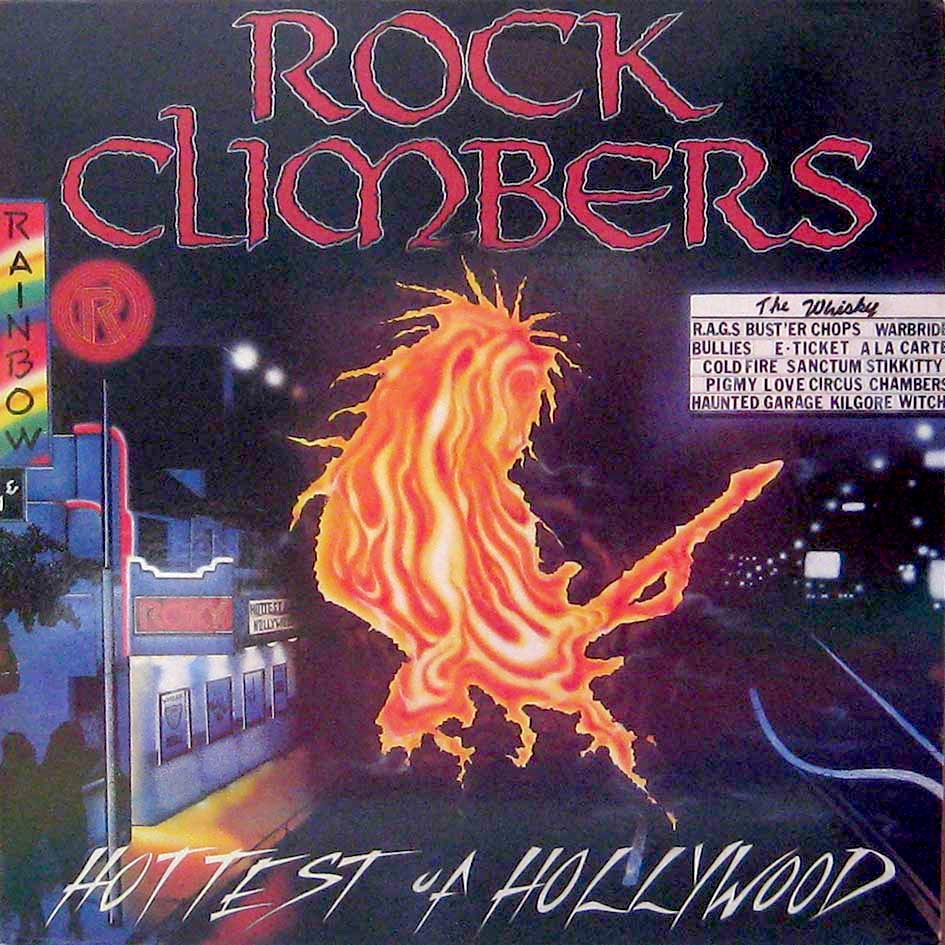 Artist: V/A
Release: Rock Climbers: Hottest of Hollywood
Genre: Blues / Hard / Grunge Rock, Heavy / Thrash Metal
Country: USA (California)
Bitrate: 320kbps
►Dead Link
Compilation featuring bands from the Hollywood area. Forgot to name the tracks before I uploaded.
Band/Track list:
1. Kilgore - Cops and Robbers
A nice Hard Rock song
Terry Kilgore - Guitar, Vocals
Rick Carpenter - Bass
Mike Sato - Drums
2. A La Carte - Leave the Back Door Open
A good bluesy Hard Rock song.
K.K. Martin - Vocals, Guitar
Brian O'Brian - Drums
Craig Miller - Bass
3. Rags - Listen
Typical late 80s early 90s L.A. Hard Rock.
Joe Richardson - Vocals
Tracy G. - Guitar (Ex-Swiftkick)
Tom Mckee - Bass
T.C. - Drums
4.
Chambers - War Games
Great Female Fronted Heavy Metal.
Midnight - Vocals
Randy Chambers - Guitar, Bass
Ray Delgado - Drums
Anthony Rose - Keys, Effects
5.
Warbride - I Follow Your Star
A Great Metal Ballad. One of the best Tracks on this comp.
Nancy Huff - Vocals
Lori Von Linstruth - Guitar
Velia Garay - Keyboards
Janna James - Bass
Michelle Lee - Drums
6.
Cold Fire - Of the Flesh
Very Good Heavy Metal.
Lord Grey - Vocals
Joe Floyd - Guitar (Warrior)
Kelly Magee - Bass
Liam Jason - Drums (Ex-Warrior)
7.
Sanctum - To the End
Awesome Thrash. The best song on this comp.
Dave Sanctum - Vocals
Michael Lord - Guitar
Carlos Medina - Bass
Doug Clawson - Drums (Ex-Defcon, Ex-Evildead)
8. Stikkitty - Life Lines
Alternative hard rock with some funk influences. My Least Favorite song on this comp.
Vincent K. - Vocals
Johnny Gurzi - Guitar
Dwayne Allen - Bass
David Outzs - Drums
9. E-Ticket - Passion Flower
Mix of Mellow Glam/Grunge Rock.
Marvless McDaniel - Guitar
Randy Wild - Bass, Keyboard
Herb Grahm Jr. - Drums
10.
Haunted Garage - Dead and Gone
A Danzig Like Heavy Metal / Hard Rock song.
Dukey Flyswatter - Vocals
Gaby Godhead - Guitar
John Ho - Guitar
King Dinasaur - Bass
Jonie Hell - Drums
11.
Pigmy Love Circus - Highway Man
A song that is close to what White Zombie was doing at the time but with a little bit more thrash Metal influences.
Michael Savage - Vocals
Randy Walters - Guitar
Peter Fletcher - Guitar
Shephard Stevenson - Bass
Anthony Martinez - Drums
12.
Witch - 1:45
Great L.A. Heavy Metal. One of the best songs on this comp.
Punky Peru - Drums
Peter Wabitt - Vocals
Ronny Too - Guitar
Jim Warmon - Bass
13.
The Bullies - Finger of Doom
A good old fashion Speed Metal Song
Johnny Severe - Vocals
Ron Chalante - Bass
Lucifer Ferguson - Drums
Pat G. - Guitar
14. Bust'er Chops - Break'n Some Hearts
Another nice Bluesy Hard Rock Track.
Stephen John Krall - Vocals
Lawrence Manser - Guitar
Keven Hill - Bass
Danny Read - Drums
Jack Freidman - Sax
15. Mandy Lion - Conclusion
Pointless 30 second track