24
THIS POST HAVE DEAD LINKS
REQUEST A REUPLOAD

HERE



CHECK SUBMITTED REQUESTS
BEFORE POSTING A NEW ONE!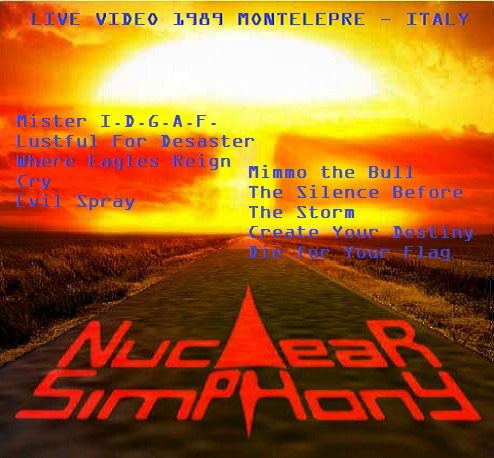 Band: Nuclear Simphony
Country: Italy (Favara,Agrigento)
Genre: Thrash Metal
Release: Live video
Date: summer of 1989
City: Montelepre (Palermo)
Venue: City Park
Format: Video MP4
Size: 532 MB
►Dead Link
Artwork and audio remastering by nonseinormale65
Info:
Very good show played in Montelepre (close to Palermo,Italy)
to support the album "Lost in Wonderland",video footage were
made with two cameras by the local TV station called Tele Occidente
(West T.V.),i extracted the audio track remastering it with Magix
Audio Clinic and then merged it again with the images,please note
that it's a single file,songs are not splitted,enjoy it!!!
Line up:
Ciro Signorello - guitar
Gino "Dictator" Pecoraro - lead vocals,guitar
Sergio Marchesini - bass
Giovanni La Rocca - drums
Setlist:
Announcer intro/tuning - from 00.00 to 2:00
Mister I.D.G.A.F.
Lustful For Desaster
Where Eagles Reign
Cry
Evil Spray
Mimmo the Bull
The Silence Before The Storm
Create Your Destiny
Die for Your Flag